LETTER FROM THE FORMER BRIGADE COMMANDER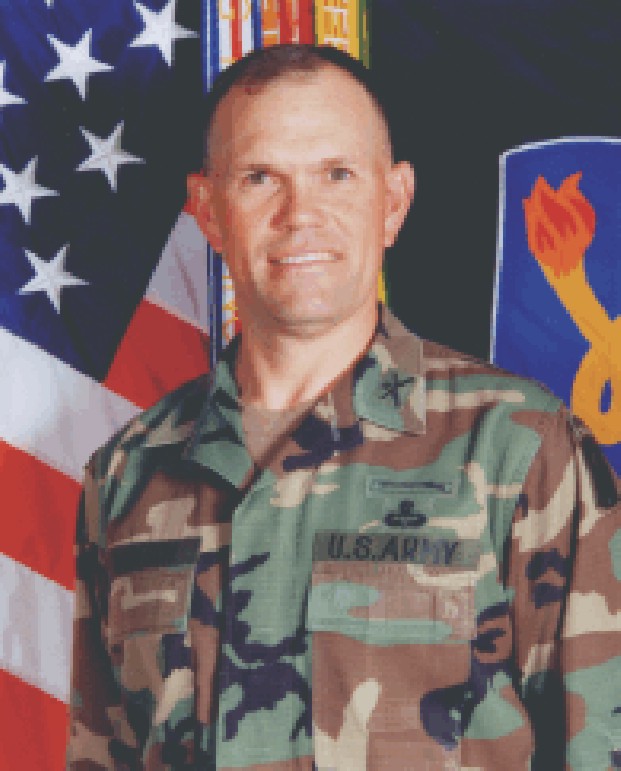 BDE CDR COL Kim R. Kadesch
I was very honored to join you at the 196th Light Infantry Brigade Association Reunion this past July in Gettysburg. What impressed me the most was the strong identification that everyone has with the Charger Brigade. Current members of the active 196th Infantry Brigade are continuing that tradition by wearing the "double headed match" proudly. A new tradition is issuing each new member of the Brigade a unit coin. The coin (shown below) shows the patch on one side with significant dates in the history of the Brigade: 1921, the year the Brigade was first organized as an element of the Army Reserve's 98th Division; 1942, the year the Brigade was ordered to active duty for service during WW II; 1965, the year the Brigade was reconstituted at Ft. Devens, MA and deployed to Vietnam; and 1998, the year the Brigade reactivated in Hawaii. The other side shows the unit insignia with locations the Brigade currently has soldiers stationed.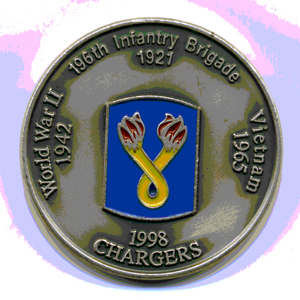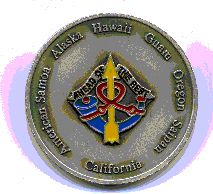 The Brigade continues to provide professional and responsive training support to Reserve Component units throughout the Pacific. This summer we conducted numerous annual training exercises and evaluations for reserve component units across the Pacific. Highlights included annual training support for the 100th Bn, 442nd Infantry and the 2nd Bn, 299th Infantry in Hawaii and 1st Bn, 184th Infantry in California. We also provided training support to the 1st Bn, 294th Infantry, Guam Army National Guard, as they deployed from Guam to Hawaii for their annual training. The Brigade assisted in the mobilization of A Company, 1-184 IN, which deployed for a mission to Southwest Asia in October 2001. Since September 11th the Brigade has assisted our supported reserve component units in preparing for possible mobilization and assisted National Guard units in Guam, Alaska, and Hawaii in training for their airport security mission as part of Operation Noble Eagle.
As you would expect, the 196th Infantry Brigade's "on order" mission of coordinating and synchronizing the DoD effort for Military Support to Civilian Authorities (MSCA) in the U.S. Army Pacific area of responsibility has received significantly increased importance since September 11th. In true Charger fashion, the 196th Infantry Brigade has taken a leading role within U.S. Army Pacific in shaping the planning and coordination of this important mission.
Our Lineage Display continues to grow. We thank all who have contributed memorabilia and artifacts for our display and welcome others to contribute additional items for display. Please contact CW3 Theresa Ferguson at (808) 438-1209, extension 274, for information on how to send us your items. If anyone is going to be in Hawaii and would like to visit the Headquarters please feel free to contact the Brigade at (808) 438-1209, and ask for MAJ Odom, the Brigade S-1 at extension 271 or CSM Champaco at extension 224.
Ahead of the Rest!
Kim R. Kadesch
Colonel, Infantry
Brigade Commander